Last week, Elaine Kamuda, 67, from Danielson, and former DKH at Home patient, was finally able to get back into her home with the help of a few local friends. Earlier this summer, Elaine and her husband Peter began to engage local organizations and contractors to support them in building a wheelchair ramp so that Elaine could return home from the skilled nursing facility where she was receiving rehabilitation. Having used DKH's services previously, the Kamuda's called our at Home services to see if there was any way we could help.
After approaching a few vendors with no luck, Kim Durand RN, MSN and Home Health Clinical Manager with DKH's at Home services enlisted the help of another member of the DKH family, Melanie Swantek, DKH medical assistant for the past 26 years, who had completed ramp builds for other members of the community with the help of the Danielson Lodge of Elks #1706.
Without hesitating, Melanie jumped in to help organize the project and coordinated a team of contractors to meet with at Chace Building Supplies to donate lumber. On Sunday, August 7, arguably the hottest day of the summer, Melanie and her team - Dan Rybacki, Paul Swantek, Phil Coraccio, Keegan Rybacki, Dennis Alemian and Rich Demars - built the ramp so that Elaine could return home to her family.
What a fantastic way of giving back to the community where we live and work. Great job Melanie and team! We are Day Kimball, and we are making a difference!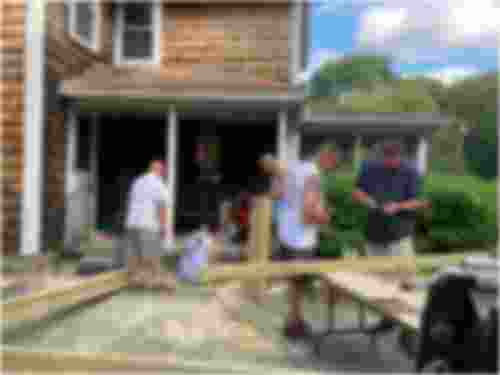 Photo Caption: The team from Danielson Lodge of Elks #1706
building the ramp for the Kamuda Family.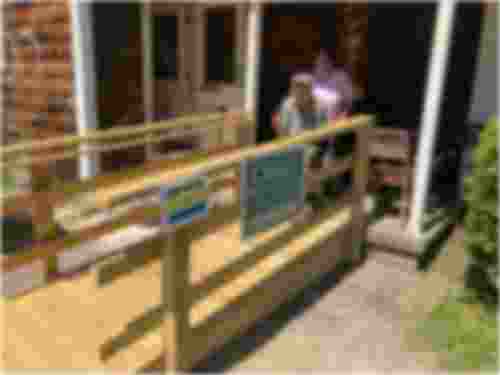 Photo Caption: The homeowners, Peter and Elaine Kamuda
enjoying their new ramp.