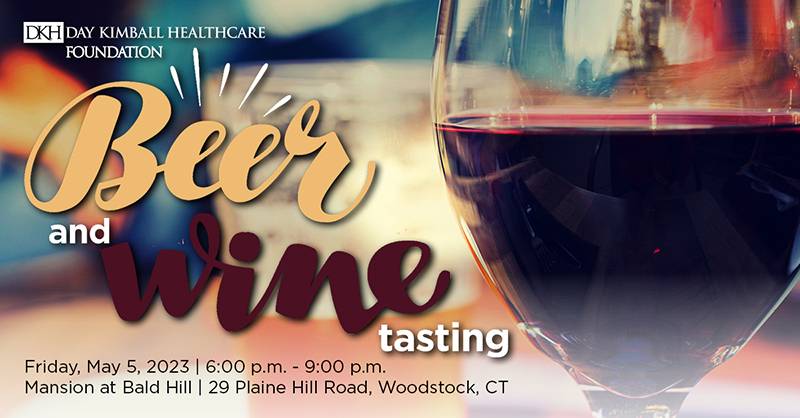 Beer & Wine Tasting
***Registration for this event is now closed, if you have any questions, please contact our Foundation Office at (860) 928-7141.***
Join us for a taste of the best that Connecticut and our region's vineyards and breweries have to offer! We've partnered with Sue Windrow and Pomfret Wine & Spirits for a fun-filled night with a wide selection of beer, wine and craft cocktail samples, plus hors d'oeuvres, and live entertainment with Evan Couture.
Funds raised will benefit the NECT Cancer Fund of DKH which provides financial assistance to residents of Northeast Connecticut who need resources to obtain cancer services and treatment, and who otherwise may not have the financial resources to obtain needed medical attention.
Breweries, Wineries & Distilleries:
Allan S. Goodman, Inc.
Berkshire Brewing Company
Black Pond Brews
Boroughs Brewing Company
Brescome Barton
Connecticut Distributors, Inc. (CDI)
Craft Beer Guild CT
East Hartford Brewing
Hartford Distributors, Inc.
Hartley & Parker, Ltd.
Levine Distributing Co.
Monsieur Touton Selections, Ltd.
Northeast Beverage
Powder Hollow Brewery
Slocum & Sons, Inc.
Stella Rosa Wines
Taylor Brooke Brewery & Winery
Watercure Farm Distillery
Worldwide Wines
Tickets are $45 and must be purchased by Monday, May 1, 2023.
If you're interested in having your vineyard or brewery featured at the tasting, or if you have questions about the event, please contact the Day Kimball Healthcare Development Office at (860) 928-7141.