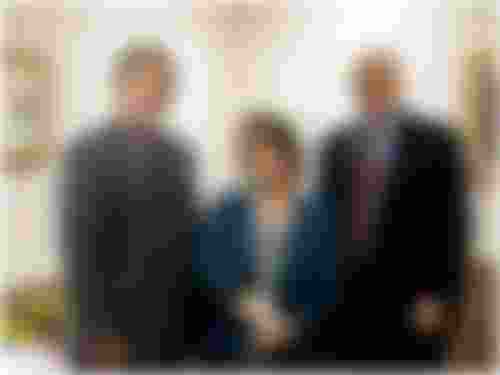 DKH Employee of the Month for February, 2016 Brenda Koski (center) with Chairman of the Board Joseph Adiletta (left) and President and CEO Robert Smanik (right) at a celebration in her honor at Day Kimball Hospital on Tuesday, February 23, 2016.
Brenda Koski, site of service manager for Day Kimball Medical Group, has been named employee of the month for February by Day Kimball Healthcare (DKH).
Koski's experience in the medical field began some 18 years ago, 10 of which have been with DKH. She has worked in various areas and capacities from medical assistant and biller/coder to practice manager. In her current position as site of service manager/trainer for Day Kimball Medical Group (DKMG), she is responsible for training patient service representatives on front desk operations, collections policies and procedures, charge entry and billing —all with a focus on providing excellent customer service. She is also part of the revenue cycle team and works on projects related to coding and billing.
According to Kathy Combs, director of professional revenue cycle for DKMG, "Brenda is a very kind and caring person who takes her job to heart. She is constantly coming up with new ways for the front desk staff to do their jobs as efficiently as possible while continuing to meet the needs of our patients."
Combs also noted that Brenda's co-workers really admire her and look to her for guidance on a daily basis. "They all have her cell phone number and do not hesitate to reach out as they all know she will always take their calls, answer their questions, and be there to support them. As her supervisor, I know I can always depend on Brenda to do whatever task I set before her even if she is in the middle of doing ten other things. She is just one of those employees that gives 110% to her job and just wants to do what is right for the staff and our patients," Combs said.
When asked how she feels about this award, Koski said it was unexpected but she really appreciates being named employee of the month. She says that what she enjoys most about her job is training staff. "I offer mentoring and support, but I also present challenges for them when I can. So it's great to see people grow within their role and expand their knowledge base. I also enjoy working with patients when I get the opportunity," Koski said.
Koski is a life-long resident of Connecticut. She was born at Day Kimball Hospital in Putnam, grew up in South Killingly, and currently lives in Moosup with her family. She holds an associate degree in science, medical assisting from Quinebaug Valley Community College, Danielson, CT. She has also received her Certified Professional Coder (CPC) certification through the American Academy of Professional Coders.