Day Kimball Healthcare Names Amanda Ponciano, Mental Health Worker, Employee of the Month for February
02/24/2021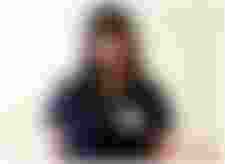 Amanda Ponciano, mental health worker in Day Kimball Healthcare's (DKH) behavioral health department, has been named employee of the month for February.

Ponciano began working at Day Kimball in September 2018. In her role, Ponciano assists registered nurses with direct patient care and works to ensure a safe, therapeutic environment for patients.

According to Ponciano's supervisor, Pete Neal, Ph.D., LPC, director of behavioral health services, Day Kimball Healthcare, "Amanda embodies the spirit of what we are aiming to accomplish in Day Kimball's behavioral health department. She is kind and compassionate with our patients, making sure they feel safe and supported. She brings a positive attitude every day and works hard at her job. Amanda is an excellent employee, and an even better person."

In response to being named employee of the month, Ponciano said, "It's an honor. I work with so many great people here at Day Kimball and it is nice to feel appreciated." When asked what she likes most about her job, she shared, "The opportunity to help people. I love working with patients and hearing them say that I helped support them during their time here. There is such a stigma with mental health, and being in the field, I get to actively fight against that stigma every day."

Ponciano obtained a bachelor's of science in psychology from Bridgewater State University, Bridgewater, Massachusetts and is a native of Northeast Connecticut.

Day Kimball Healthcare's employee of the month program is sponsored by Foxwoods Resort Casino in Mashantucket, Connecticut. "The Mashantucket (Western) Pequot Tribal Nation and Foxwoods Resort Casino has been focused on taking care of the people that serve within our community, and we appreciate everything Day Kimball Healthcare does," said Foxwood's Director of Sponsorships and Partnerships Roy Colebut-Ingram. "Supporting meaningful employee recognition programs like that at DKH is just one way that we feel we can express our appreciation."

PHOTO CAPTION: Day Kimball Healthcare's Employee of the Month for February 2021, Amanda Ponciano, mental health worker in Day Kimball Healthcare's (DKH) behavioral health department.