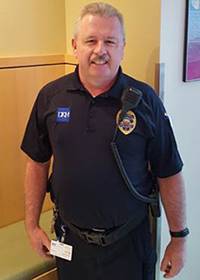 Dennis Gaffney, public safety lead officer for Day Kimball Hospital, has been named employee of the month for March by Day Kimball Healthcare (DKH).
Gaffney, who has been in the security field for 10 years, began working for DKH in July 2014. In his role, Gaffney is responsible for providing security and safety related services in a lead capacity to all visitors, patients, and employees at Day Kimball Hospital.
According to Gaffney's supervisor, Brian Fulton, public safety manager, Day Kimball Healthcare, "Dennis goes above and beyond to support the needs of the department and the organization which speaks highly of his leadership, commitment, and worthiness of this recognition."
In response to being named employee of the month, Gaffney said, "I am thankful that I was selected." When asked what he likes most about his job, Gaffney said, "I enjoy helping people."
Gaffney was raised in Scituate, Rhode Island and currently resides in North Scituate, Rhode Island with his wife, Karen. He served as a volunteer firefighter for over forty years and as Fire Chief from 2001 to 2011.
Day Kimball Healthcare's employee of the month program is sponsored by Foxwoods Resort Casino in Mashantucket, Connecticut. "The Mashantucket (Western) Pequot Tribal Nation and Foxwoods Resort Casino has been focused on taking care of the people that serve within our community, and we appreciate everything Day Kimball Healthcare does," said Foxwood's Director of Sponsorships and Partnerships Roy Colebut-Ingram. "Supporting meaningful employee recognition programs like that at DKH is just one way that we feel we can express our appreciation."