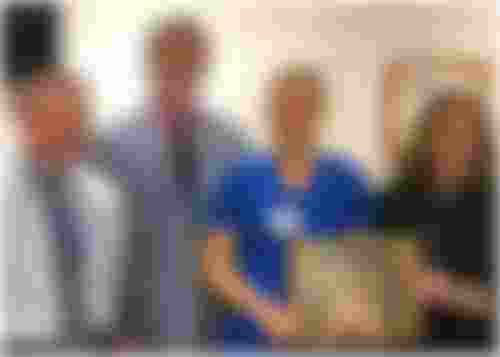 Jillian Mancini, staff pharmacist for Day Kimball Hospital's Pharmacy department, has been named employee of the month for June by Day Kimball Healthcare (DKH).
Mancini has been a pharmacist for ten years and began her career first working part time in the pharmacy at DKH in 2008 before coming onboard full time in 2012. In her current role as staff pharmacist in the Pharmacy department, she is responsible for preparing medications by reviewing and interpreting physician orders, researching medications and detecting therapeutic incompatibilities, and dispensing medications by compounding, packaging, and labeling pharmaceuticals including chemotherapy medications. She is also responsible for tracking antibiotic usage for DKH's antimicrobial stewardship program.
According to Mancini's supervisor, Robert Viens, Director of Pharmacy, "Jill displays great enthusiasm to learn and grow professionally. She shows sincerity, perseverance, and diligence in her hard work, and never hesitates to help out a colleague or co-worker. She is dedicated and willing to work all shifts and cover sick calls and vacations. She is well respected in the department, and the entire team is very excited for her."
When asked how she feels about being named employee of the month, Mancini said, "I am very excited and honored to be acknowledged by my team. I love being part of the pharmacy team at Day Kimball and we all work really hard and pull together. This is a group win in my eyes, and I want to thank all of my co-workers for recognizing me as employee of the month."
Mancini grew up in Putnam and currently lives in Pomfret Center, CT where she lives with her husband, Justin, two sons, Anthony, and Thomas, and golden retriever, Gus. She earned her Doctor of Pharmacy degree (PharmD) from the University of Connecticut (UCONN) School of Pharmacy. Prior to becoming a pharmacist Jillian graduated as a Licensed Practical Nurse (LPN) through the United States Army Military Base at Fort Gordon, GA.
PHOTO CAPTION: (l to r): Chief Nursing Officer and VP, Patient Services John O'Keefe, DKH Chairman of the Board Joseph Adiletta, DKH Employee of the Month Jillian Mancini, and DKH President and CEO Anne Diamond at Mancini's Employee of the Month celebration, held June 26 at Day Kimball Hospital.