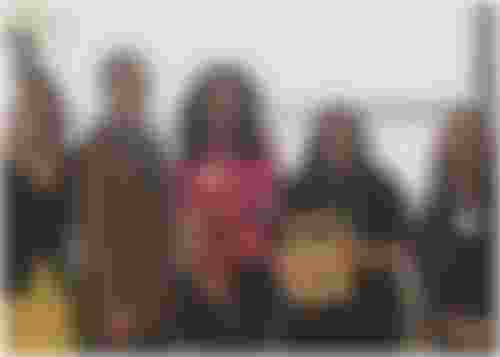 Michelle Gardner, Intake and Outreach Coordinator for Day Kimball HomeMakers, a division of Day Kimball Healthcare at Home, has been named employee of the month for October by Day Kimball Healthcare (DKH).
After nine years of employment at CVS, and following her mother's cancer diagnosis Gardner chose to pursue a new career path as a Certified Nursing Assistant through the Community College of Rhode Island. With a true passion for homecare Gardner joined the Day Kimball Healthcare at Home team as a full-time home health and hospice aide in August 2002. She accepted her new position at Day Kimball HomeMakers in December 2017.
In her current role as Intake and Outreach Coordinator, Gardner is responsible for processing new client referrals ensuring the initial plan of care meets each client's individual needs. Additional responsibilities include performing home visits to existing clients to ensure that changes in status and client needs are reflected in the plan of care, and to evaluate the quality of care provided by HomeMakers' staff. She also works per diem as a home health and hospice aide for Day Kimball Healthcare at Home.
According to Gardner's supervisor, Executive Director of Day Kimball Healthcare at Home, Renee Smith, "Michelle exceeds even the highest expectations to ensure that every HomeMakers' client has a personalized care plan and schedule to best meet their needs, often providing coverage as a personal care assistant or homemaker herself if staffing is tight or a caregiver calls out. On behalf of myself and everyone at DKH at Home, we couldn't be happier for Michelle to have received this much deserved award, or more blessed to have her on our team."
In response to being named employee of the month, Gardner said, "I am honored and humbled. Since my first day at Day Kimball Healthcare, I have always felt a sense of belonging. We have a great team here that I am fortunate to be part of." In 2017, Gardner received the "Hero for Homecare" award which recognizes a healthcare partner who advocates for homecare and promotes collaborative patient care across the continuum.
When asked what she likes most about her job, Gardner said, "The ability to help our clients stay at home gives me the most satisfaction. I also enjoy my interactions with clients, listening to their stories and learning more about who they are." Gardner is also a certified personal care assistant trainer for Day Kimball HomeMakers.
Gardner was born and raised in Woonsocket, RI with her five siblings. She now lives in Tolland, CT with her husband, Steve, who owns a small business in South Windsor. The couple also resides with their 16-year-old cat, River. When not at work, Gardner can be found running a 5k or spending time with her friends. She is also a member of the Tolland Chapter's "Buy Nothing Project."
PHOTO CAPTION: (l to r): DKH at Home Operations Director Denise Kearney, DKH Board of Directors Chairman Joseph Adiletta, DKH Employee of the Month Michelle Gardner, DKH President and CEO Anne Diamond, and DKH at Home Executive Director Renee Smith at Gardner's Employee of the Month celebration, held October 23 at Day Kimball Healthcare at Home.