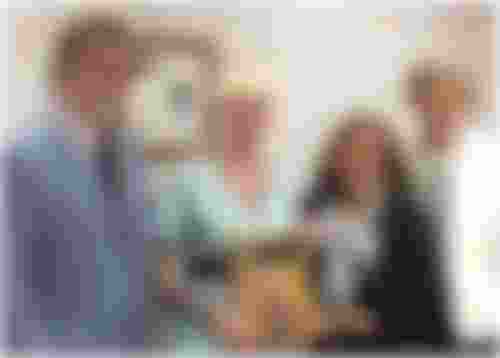 Stacey Jones, lead phlebotomist for Day Kimball Healthcare's Laboratory and Blood Draw Services department, has been named employee of the month for July by Day Kimball Healthcare (DKH).
Jones began her career in phlebotomy nearly ten years ago first working part time in the laboratory at DKH in October 2008 before coming on board full time. In her current role as lead phlebotomist, Jones is responsible for overseeing DKH's traveling phlebotomy program, as well as performing outpatient blood draws at DKH's Putnam Healthcare Center blood draw site. Additional responsibilities include training new phlebotomy staff, scheduling, and assisting with various phlebotomy-related clerical duties.
According to Jones's supervisor, Director of Laboratory Services and Diagnostic Imaging, Patti Bernier, "Stacey is very passionate about what she does, and her compassion for others radiates when you step back and watch her in action. She gives every patient her undivided attention, and is one of our most frequently requested phlebotomists. She treats all peers with the utmost respect and kindness at all times. Her energetic, positive attitude towards life resonates in her body language. The DKH phlebotomy team is a better unit because of Stacey."
In response to being named employee of the month, Jones said, "I am overwhelmed! It has been a goal of mine since I started my phlebotomy career at Day Kimball Healthcare almost ten years ago to be employee of the month. I was delightfully astonished when I was told the good news, and am so proud to be recognized for what I do."
When asked what she likes most about her job, Jones said, "My interactions with patients are what give me the most joy. I have known some of the patients that come in since I started my career and a lot of them are like extended family. I also have to say that I couldn't work with a better group of people. I love my coworkers!"
Jones was born at Day Kimball Hospital and grew up in Foster, RI with her mom. She currently lives in Dayville, CT with her best friend, Michelle, and three sons: Matthew, 19, who works for the Plainfield board of education, Dylan, 16, who is a junior at Ellis Tech, and Rowan, 5, who will be a first grader at Killingly Central School. The family also has several dogs and cats, and a tortoise.
PHOTO CAPTION: (l to r): DKH Chairman of the Board Joseph Adiletta, DKH Employee of the Month Stacey Jones, DKH President and CEO Anne Diamond, and Director of Laboratory Services and Diagnostic Imaging Patti Bernier at Jones's Employee of the Month celebration, held July 31 at Day Kimball Hospital.