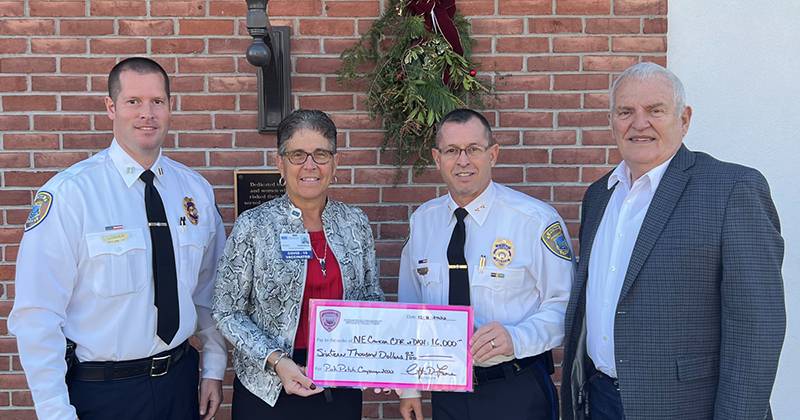 Day Kimball Healthcare Receives $16,000 from Putnam Police Department Pink Patch Project
12/14/2022
Day Kimball Healthcare (DKH) has received a $16,000 donation from the Putnam Police Department's Pink Patch Project, an annual fundraiser which helps support local patients fighting breast cancer.
This year, the Putnam Police Department organized the initiative to 'Make Mayor Seney Pink in a Day' which challenged the community to raise $10,000 in one day, on Friday, October 14, in recognition of Breast Cancer Awareness Month. The Putnam PD met their goal, which saw Putnam Mayor Barney Seney dyeing his hair pink, and exceeded two additional goals set that day causing Mayor Seney to also dye his eyebrows pink and paint his nails pink.
All proceeds from this event benefit the NECT Cancer Fund of DKH which provides financial assistance for cancer-related screenings and treatment services to individuals living in Northeast Connecticut who may not otherwise have the resources to obtain needed medical attention.
PHOTO CAPTION: Putnam Police Chief Chris Ferace and Captain Justin Lussier, along with Putnam Mayor Barney Seney, deliver a check totaling $16,000 for the proceeds from this year's Pink Patch Project fundraiser, an annual event that raises awareness and funds for breast cancer. Pictured left to right: Captain Justin Lussier, Putnam Police Department; Kristen Willis, Director of Development, Day Kimball Healthcare; Chief Chris Ferace, Putnam Police Department; Putnam Mayor Barney Seney.
At Day Kimball Healthcare, we see cancer care from your perspective. From diagnosis to treatment to follow-up care, our top physicians, cancer specialists, certified nurse oncologists and therapists work together to provide you a completely personalized treatment plan. Go to Cancer Care