In honor of National Homecare and Hospice Month, Day Kimball Healthcare (DKH) at Home hosted a celebration in recognition of their employees on Wednesday, November 28 at the Memory Lane Cafe.
In addition to a variety of employee appreciation activities, the celebration included a special presentation of several "Hero at Home" awards honoring DKH at Home staff for providing high-quality and compassionate care. This annual tradition also recognizes a healthcare partner who advocates for Homecare and promotes collaborative patient care across the continuum with the "Hero for Homecare" award.
DKH at Home began honoring its heroes through this award recognition program in 2016. "Each November during National Homecare and Hospice month, we look forward to celebrating our work and our team of outstanding clinicians, caregivers, and office professionals at DKH at Home," said Renee Smith, Executive Director. "I am proud and honored to work beside not only this year's award recipients, but with everyone here at Day Kimball Healthcare at Home."
The following awardees were nominated by their peers in appreciation for their outstanding service in caring for the community and for dedication to their team:
The "Administrative Team Hero" award was presented to Gloria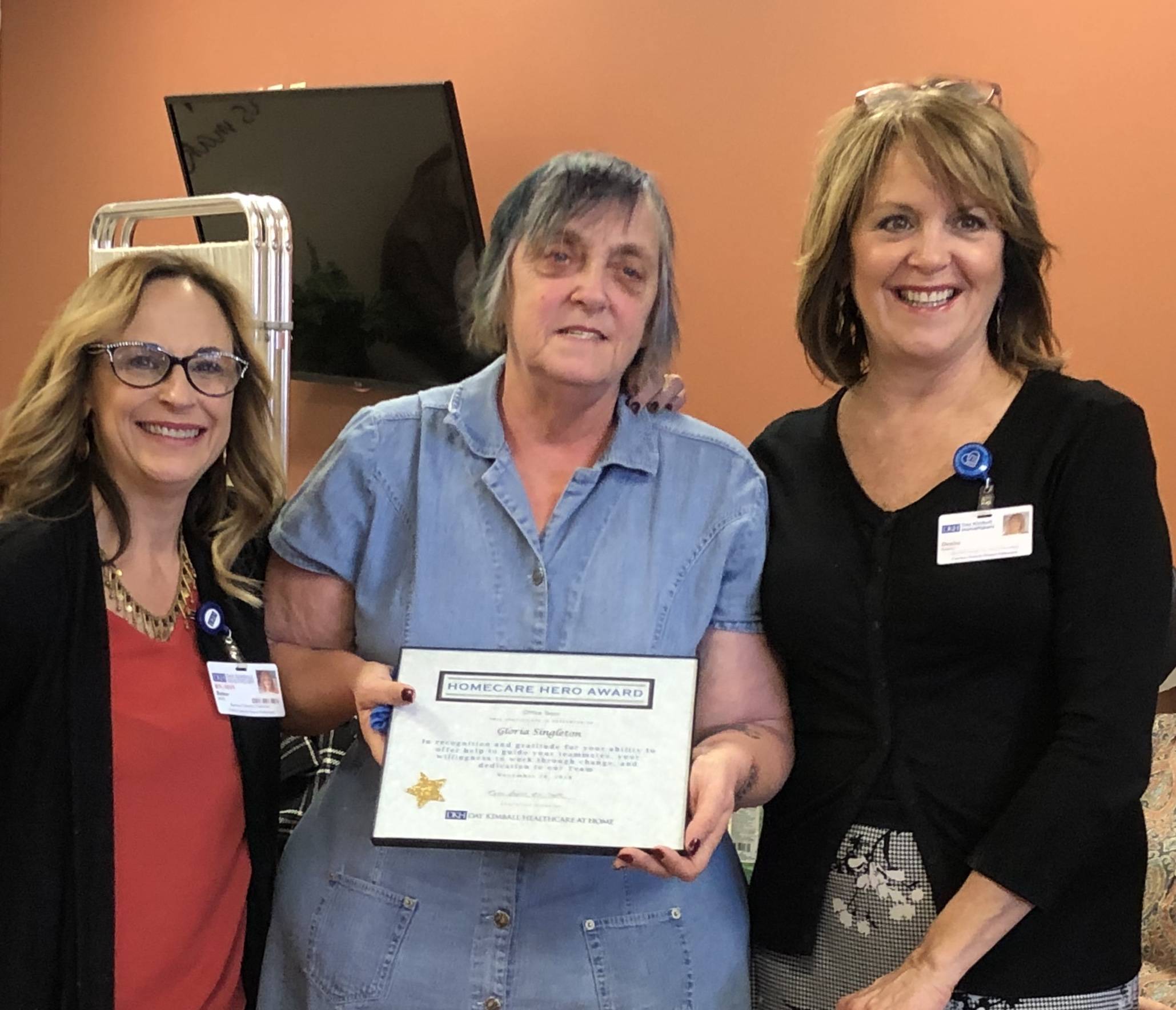 Singleton, Scheduling Supervisor for Day Kimball Homemakers. Gloria was honored for her exceptional customer service. As an office team member, her willingness to go above and beyond to support field staff enables them to provide the best care possible for patients, clients, and families. Gloria's peers describe her as "a team player who wants everyone to succeed together."
Homemaker and Personal Care Assistants Faye Cameron and Irena Valys were recognized as "Personal Care and Homemaker Heroes." These caregivers consistently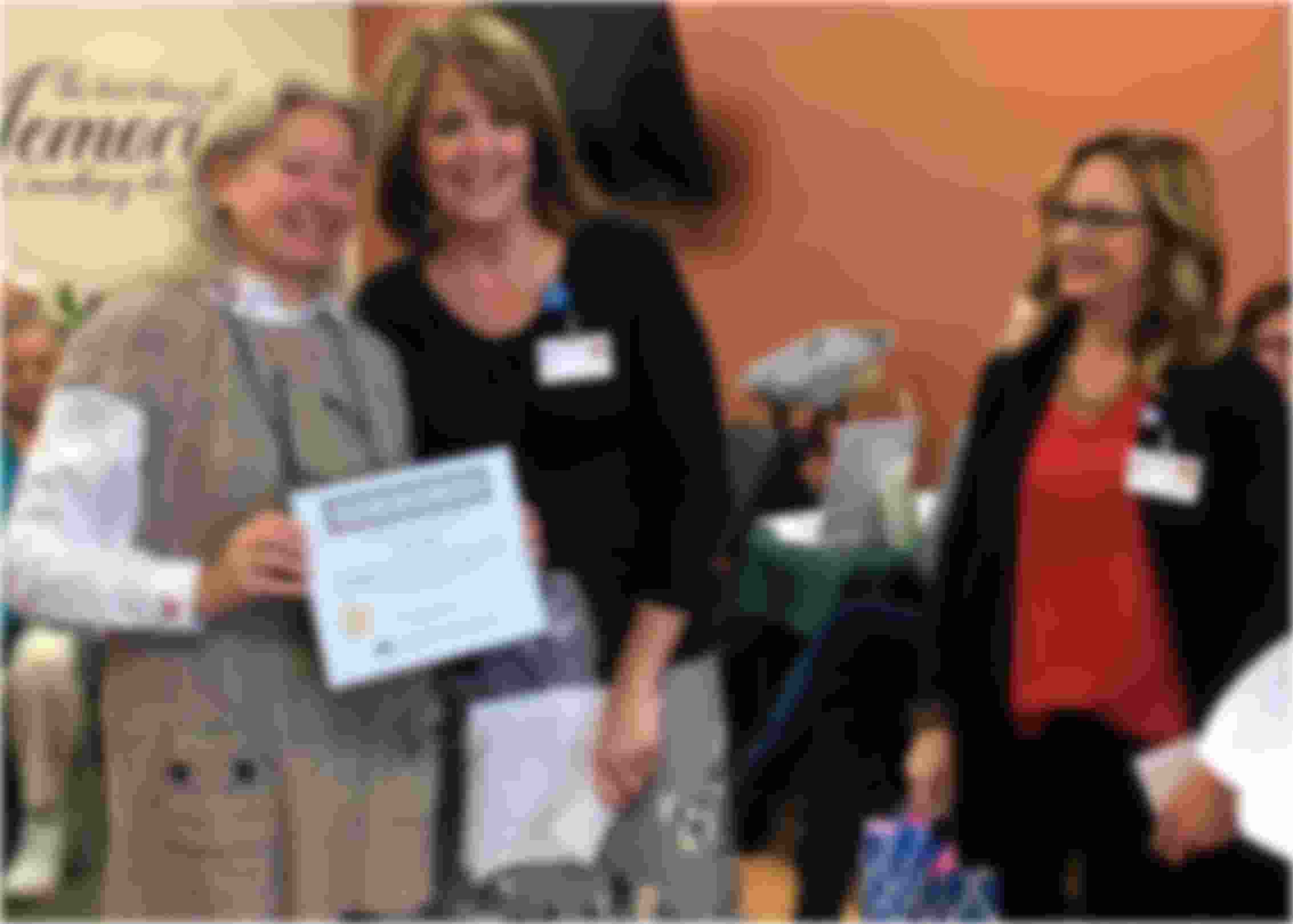 demonstrate compassion, empathy, and a strong commitment to providing excellent care to clients and families. As described by their colleagues: "Faye makes lemonade out of lemons." "Irena is always willing to assist with challenging cases."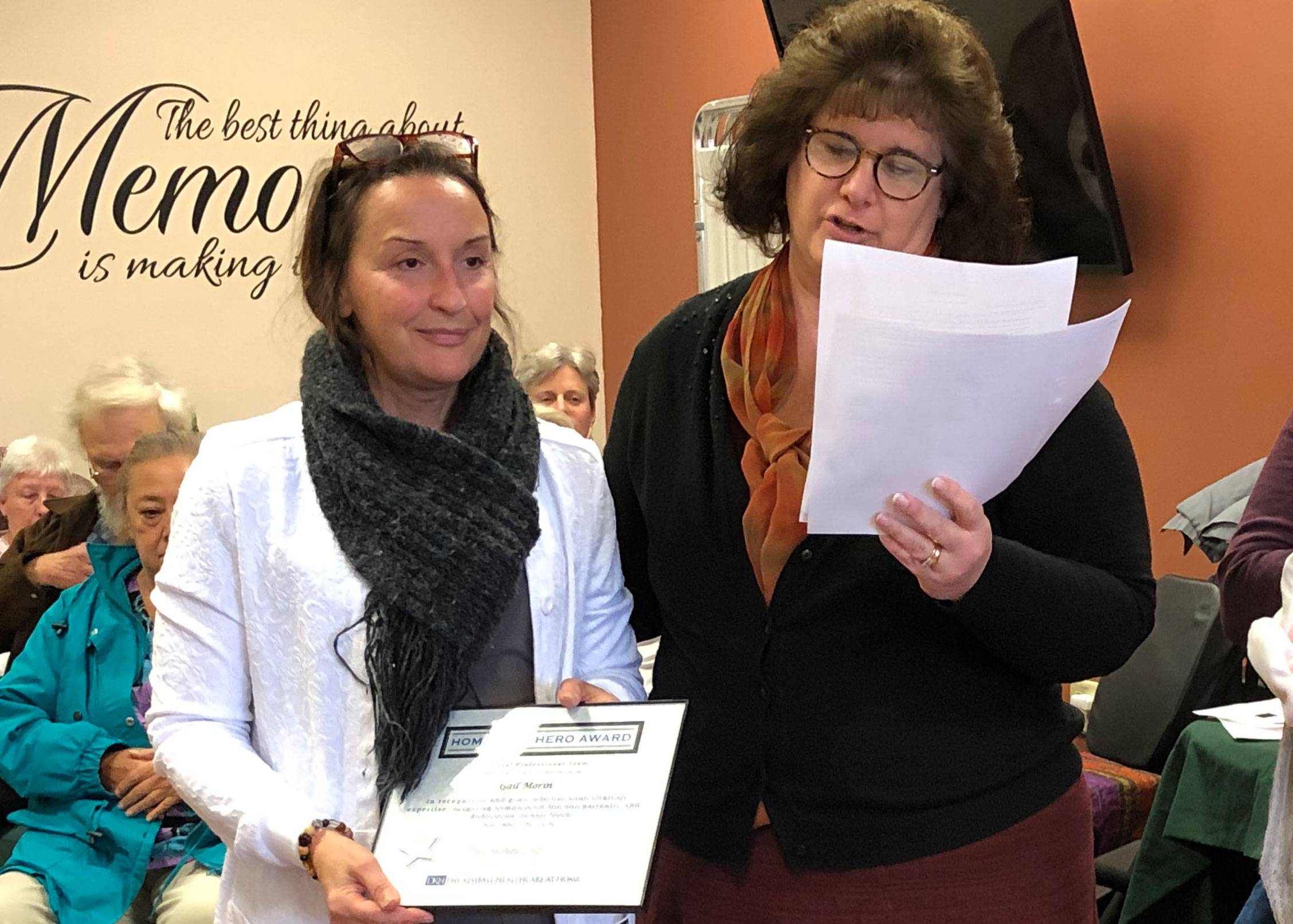 Susan Honeychurch, Physical Therapist and Gail Morin, LPN were honored as "Clinical Professional Team Heroes." These clinicians are team players in the truest sense, making every effort to provide first-class care to patients and unwavering support to their colleagues and team members. Their peers said: "Susan always goes above and beyond to meet the needs of our patients. She is kind, gentle, and always has a smile." "Gail is kind, caring, thorough and professional all the time."
The "Home Health Aide Hero" award was presented to Lorraine Guillot. Lorraine was nominated for her dedication as a Home Health Aide to DKH at Home and its patients. She understands her important role in ensuring the health and safety of those entrusted to her care. Lorraine's colleagues describe her as "a hard-working, dedicated, and compassionate team member."
The next award recipients were chosen by the DKH at Home leadership team to highlight the many important ways these healthcare providers help to improve people's lives each and every day: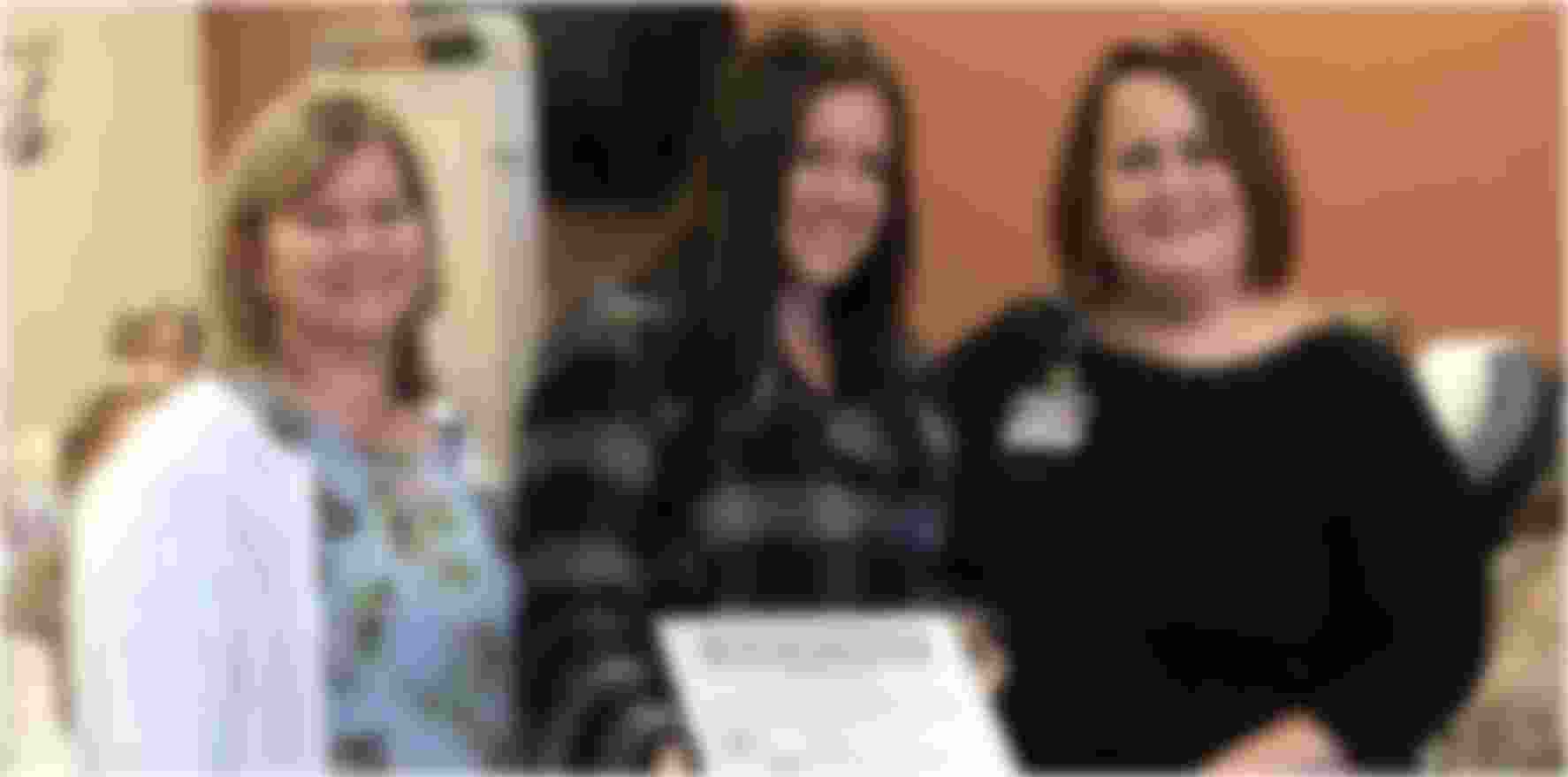 Christina Chase, RN, and Meaghan Bellavance, Homemaker and Personal Care Assistant were honored as "Remarkable Rookies." These employees are new to home care and/or DKH at Home and already stand out as shining stars. Meaghan's supervisor describes her as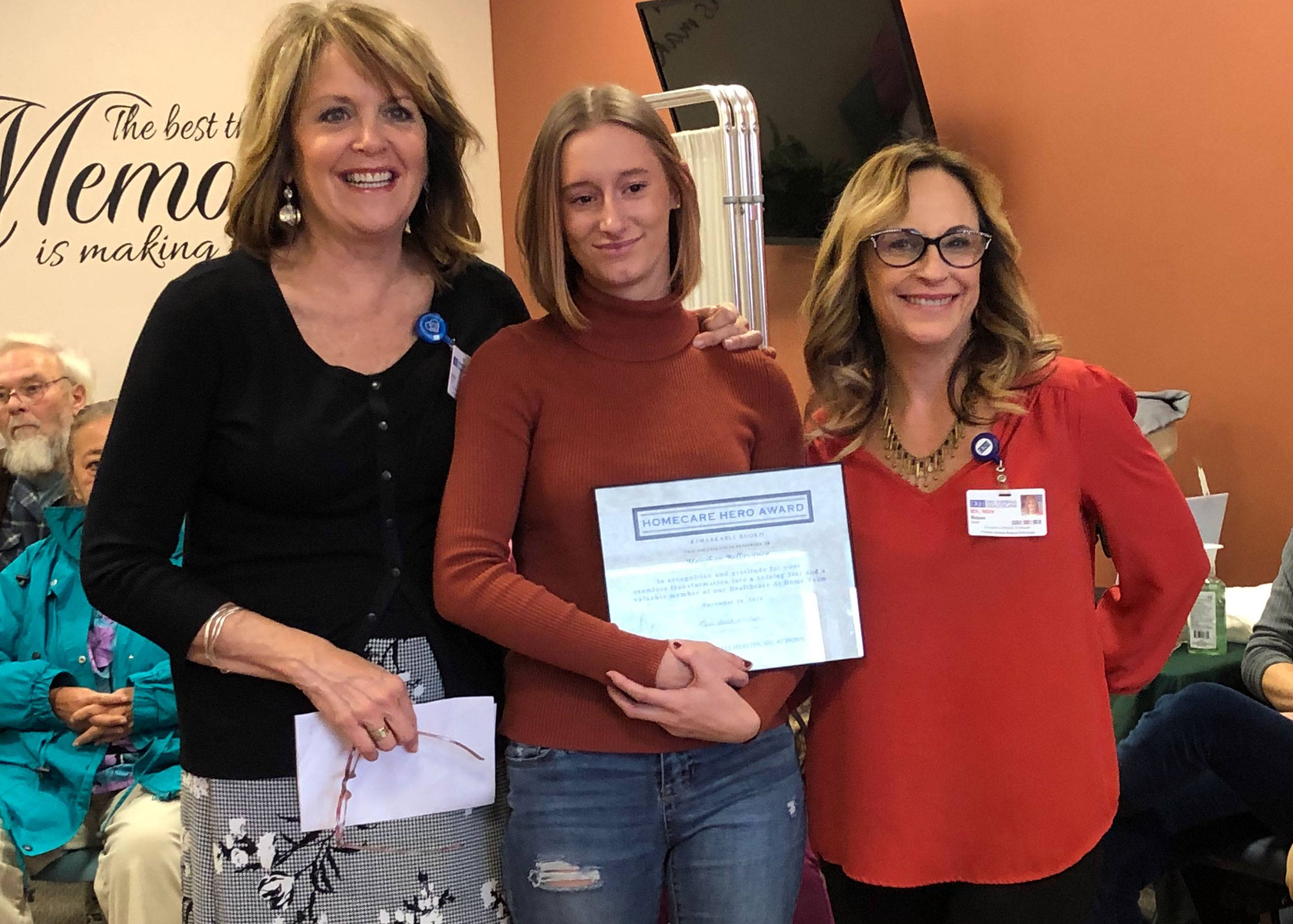 "always willing to jump right in and help. She never says no!" Christina is described as "a natural when it comes to juggling the often unpredictable nature of home health care. She is warm, gentle, and committed to providing the highest quality care possible."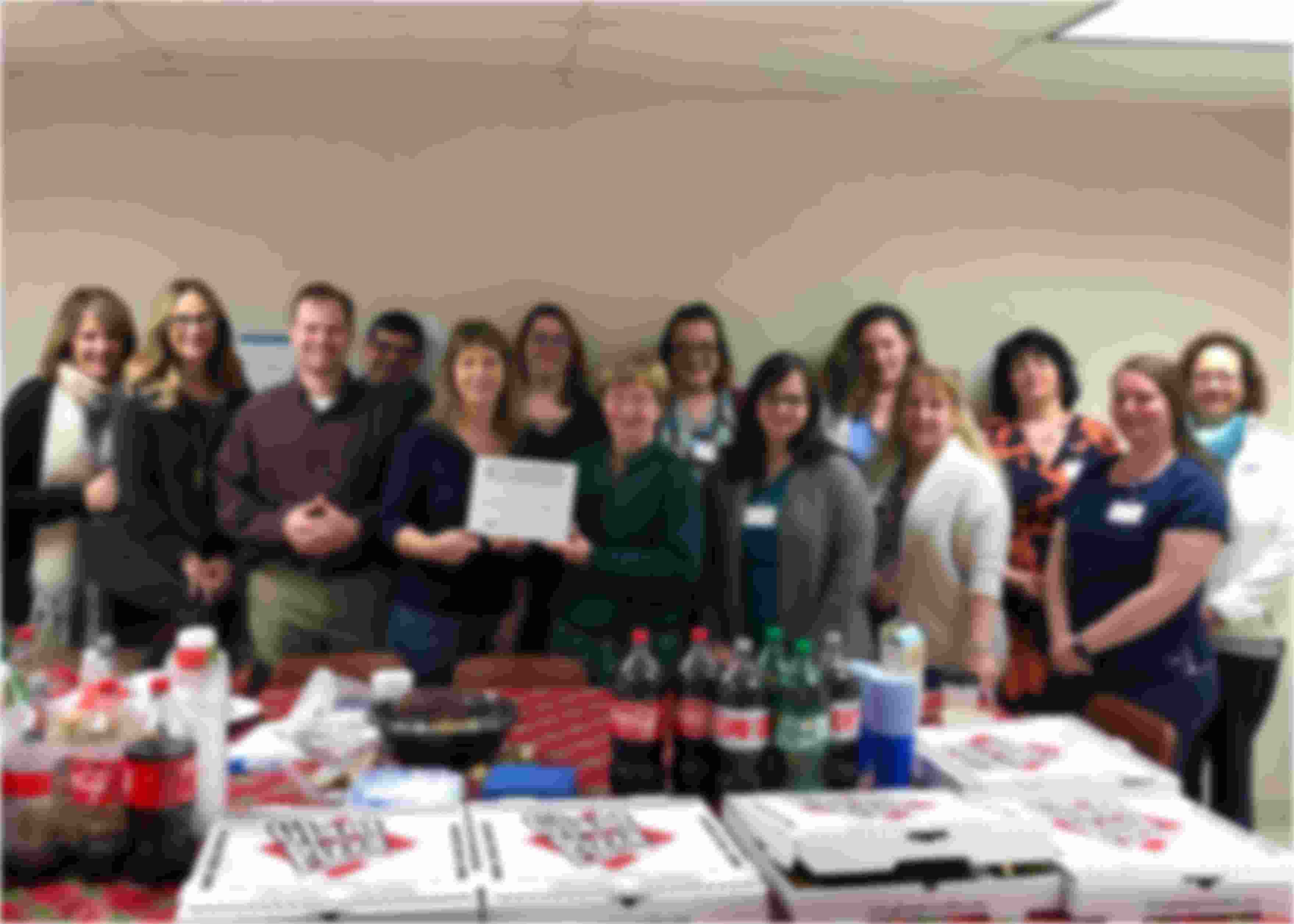 At a separate celebration on Tuesday, December 11, DKH at Home presented the Danielson Day Kimball Medical Group (DKMG) team with the "Hero for Homecare" award. This recognition is in honor and gratitude of their support of home health care, their collaborative spirit and dedication to safe patient care throughout the healthcare continuum. "DKMG staff always provide a pleasant and personal customer service experience to everyone who comes through their doors," said Renee. "Their entire team is a pleasure to work with, and they truly appreciate the value DKH at Home brings to their patients and our community."
The DKH at Home Hero awards
salute
the impact and accomplishments of people and organizations that are making a positive difference in the community by ensuring that individuals receive the best care possible in the comfort of their own homes.
Day Kimball Healthcare at Home, a service division of Day Kimball Healthcare, offers a wide range of compassionate and personalized in-home care services throughout Northeast Connecticut. Day Kimball Healthcare at Home's services include Day Kimball HomeCare, Day Kimball HomeMakers, Memory Lane Café, and Hospice & Palliative Care of Northeastern Connecticut. Learn more at daykimball.org/athome or call 860-928-0422.
PHOTO CAPTIONS: (top to bottom)
Gloria Singleton is presented with the Administrative Team Hero Award during National Homecare and Hospice month.

Irena Valys accepts the Personal Care and Homemaker Heroes award at a celebration at the Memory Lane Cafe on November 28.

Gail Morin, LPN honored as Clinical Professional Team Hero for 2018.
Christina Chase receives the Remarkable Rookie award for 2018.
Meaghan Bellavance receives the Remarkable Rookie award for 2018.

Day Kimball Medical Group in Danielson staff are presented with the Hero for Homecare Award by Day Kimball Healthcare at Home at a celebration on December 11.