Search for Affiliation Partner Continues as Leadership Underscores Commitment to Remain Independent "Until the Right Fit is Found"
After a challenging 2015, Day Kimball Healthcare (DKH) announced a projected break-even budget for 2016 as well as a multitude of significant achievements in quality of care at its annual Corporators Meeting held last night at the Mansion at Bald Hill, South Woodstock.
DKH leadership also underscored that while the need to join or partner with a larger healthcare system remains, they will ensure that any future partnership continues to honor DKH's local mission and are taking the steps necessary to ensure the organization can remain independent until the right fit is found.
DKH President and CEO Robert Smanik told the crowd of more than 150 local volunteer corporators that DKH's small size, continued independence from a larger system, and rural, economically disadvantaged service area makes it different from most other hospitals and healthcare systems in the state. Smanik said that those differences are at the root of some of Day Kimball's greatest challenges, but that they are also at the heart of some of its greatest strengths.
FINANCIAL REVIEW
Smanik provided a synopsis of the 2015 challenges and outlook for 2016.
Significant cuts to Medicaid reimbursement rates by the state for some key services had a substantial negative impact on DKH's bottom line. DKH cares for a region where the patient mix covered by Medicaid runs as high as 50 percent for some service lines.
Smanik said those rate cuts, combined with the loss of $1.1 million in supplemental and small hospital payments approved by the legislature in June that the state never paid, resulted in DKH ending its 2015 fiscal year with a $6.3 million operating loss. That loss was despite the successful implementation of a $6.5 million expense reduction plan put in place last year.
Smanik commended the efforts and dedication of staff across DKH for their work in helping to realize those savings and recognized the staff along with local legislators and community members for their support in helping to avert potentially devastating further cuts in 2016.
"Here again, we collaborated to do reduce overhead without sacrificing care. However, the final results of even the best laid plans can still be thrown off-course by external factors that are out of our control. And that's exactly what happened through the entire last half of this fiscal year," Smanik said.
But, Smanik pointed out, the things that make Day Kimball different are also at the heart of the organization's greatest strengths, and it was those strengths that allowed it to overcome those challenges faced by the healthcare system.
"Our small size and independence meant we were able to be more agile and quick to put measures in place that would limit the impact of the cuts on services and jobs. And the rural, tight-knit nature of our community meant that we were better able to rally together and speak with one voice in our own defense….literally thousands of e-mails and petitions were delivered to Governor Malloy. The Quiet Corner is not so quiet when it really counts," Smanik said.
The measures put in place in the wake of the Governor's September rescissions, affecting this year's funding, included reductions to employee benefits and compensation, improved efficiencies in materials management and purchasing and the cutting of 23 full-time-equivalent positions, which included nine positions already vacant and 16 layoffs (11 of those administrative and operations positions). DKH is also exploring the possible benefits of the sale of some physical properties as well as its in-home care services to another provider who would continue providing the service in the community.
"These were difficult measures to take, but they were necessary and prudent. I am proud to announce that we now have a business plan in place that projects a return to a balanced budget plan for FY'16. That will be quite an accomplishment. But to realize it, we must stay the course. We still face a steep uphill battle, including uncertainty in state funding, so the challenges continue. But so does our strength," Smanik said.
DKH Chairman of the Board Joseph Adiletta also addressed the abandoned affiliation with Hartford HealthCare and the question of how Day Kimball would proceed in its wake.
"Tonight we find ourselves not in a very different position than we were one year ago, before our talks with Hartford HealthCare began in earnest. But we are certainly wiser. And, I believe, stronger. We haven't found an immediate partnership fit for moving forward. But what we have done is gotten comfortable with standing alone until the right fit is found," Adiletta said.
DKH QUALITY OF CARE
Adiletta went on to say that even amidst all the external challenges the people who make up Day Kimball Healthcare were able to use their strengths to focus on what they can control – their work, their passion, our mission – and achieve great things."
As proof, Adiletta reviewed the lengthy list of high marks for patient care that Day Kimball received this past year and also announced some newly earned distinctions:
In October the hospital's relatively new Cancer Care program earned national accreditation from the Commission on Cancer. In addition to accreditation, the hospital also earned five commendations for exceeding accreditation standards in the areas of clinical trials, cancer registrar education, public reporting of outcomes, pathology and nursing care.

The CT Department of Public Health's latest Adverse Events Report, released in November, showed Day Kimball Hospital was the only acute care hospital in CT to achieve zero adverse events in 2014, and the trend continued throughout 2015 as well.

Day Kimball Hospital is one of only five CT hospitals rated four out of five stars on Medicare's Hospital Compare website; no CT hospitals scored five stars. The rating is based on patient satisfaction surveys and quality scores for patient outcomes and processes.

The Centers for Medicare and Medicaid Report on Hospital Acquired Conditions, just released in late December, showed that Day Kimball Hospital is among the top 25 percent of hospitals in CT for preventing Hospital Acquired Conditions.

Also in December, the Hospital received Blue Distinction designations for both Hip and Knee Replacement and Specialty Care - Maternity from Blue Cross Blue Shield as well as Cigna's Center of Excellence Designation in Hip and Knee replacement and Pulmonary Medical Care.

And though the latest data has not yet been officially reported, Adiletta shared that at this time Day Kimball Hospital has maintained the lowest or second lowest readmission rates in CT over the last two years.
Adiletta also remarked on how DKH was able to complete several major improvements to its physical facilities this year as well, including the completion of the Townsend Emergency Medical Center and two critical infrastructure projects - the addition of a new chiller to cool spaces and vital equipment in the hospital, and installation of a new emergency generator.
"We were able to accomplish these projects because of the generosity of our community and because of the foresight of our donors both past and present who took it upon themselves to donate and to establish planned gifts, as well as our staff who took the initiative to apply for grants," Adiletta said.
Smanik summed up the year and closed out the meeting by saying, "Many in our industry wonder if there is a place any longer for small community hospitals and health systems. They wonder if they simply face too many challenges to survive. We wondered that once, too. But remember – Day Kimball is different. And our challenges are also our strengths."
Other business conducted at the meeting included approving the election of new Board members Jeffrey Paul and Mark Shamber and the renewal of Board members Joseph M. Adiletta and Shawn McNerney. The Corporators also approved the slate of officers: Chairman, Joseph Adiletta; Vice Chairman, William St. Onge, ESQ.; Secretary, Karen Cole; Treasurer, Janice Thurlow; and Assistant Secretary and Assistant Treasurer Joseph Botta, MD.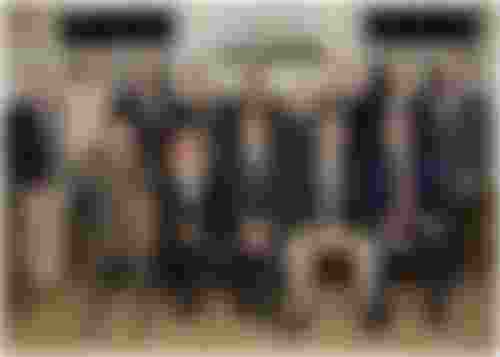 Day Kimball Healthcare 2016 Board of Directors
(back row, l. to r.): Michael Baum, MD; Jeffrey Paul; Mark Shamber; Joseph Alessandro, DO; Hadi Bozorgmanesh, MD; Steven Schimmel, MD; Garfield Danenhower, MD; Kevin P. Johnston; Shawn McNerney
(front row, l. to r.): William St. Onge, Esq.; Karen Cole; Joseph Adiletta; William Johnson, MD; Robert Smanik
(Not pictured: Joseph Botta, MD, Jack Burke, Janice Thurlow)
Related Resources
Day Kimball Healthcare 2015 Annual Report