Day Kimball Healthcare Selected as Beneficiary of Stop & Shop Community Bag Program
05/03/2019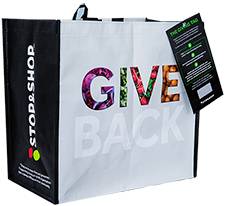 Day Kimball Healthcare (DKH) has been selected as the beneficiary of the Stop & Shop Community Bag Program for the month of May by store leadership at the Stop & Shop located at 60 Providence Pike in Putnam.

The Stop & Shop Community Bag Program is a reusable bag program that facilitates community support with the goal to make a difference in the communities where shoppers live and work.

DKH will receive a $1 donation every time the reusable Community Bag is purchased at the Putnam Stop & Shop location during May, unless otherwise directed by the customer through the Giving Tag attached to the bag.

"We are honored to have been selected as the beneficiary of the Stop & Shop Community Bag Program," said DKH President and CEO Anne Diamond. "We recognize and appreciate Stop & Shop's effort to support non-profits and make the local communities a better place."

Founded in 1894, DKH has grown along with the community. As the region's premier provider of integrated healthcare services, DKH's goal is to operate a high quality community hospital, close to home for residents in the Northeast Connecticut area and nearby Massachusetts and Rhode Island.

"Throughout 2019, we are celebrating our growth and our future during our 125th anniversary; a major milestone in our history of servicing the community," said Diamond. "We take great pride in our history and our accomplishments, and the support of Stop & Shop's Community Bag Program is another way we are able to continue to remain the region's distinguished healthcare partner for future generations."

Learn more about Day Kimball Healthcare by visiting daykimball.org. For more information on the Stop & Shop Community Bag Program, visit stopandshop.bags4mycause.com.