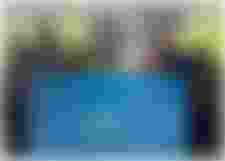 Day Kimball Healthcare (DKH) administration hosted a staff appreciation barbecue on Wednesday, May 22 at Day Kimball Hospital. The event was held in conjunction with DKH's 125th anniversary and as a culmination of a weeklong celebration during National Hospital Week.
Every year, DKH joins hospitals across the country to celebrate National Hospital Week; a week dedicated to appreciation of healthcare employees and their service. DKH is the region's largest employer with more than 1,000 staff including nearly 300 associated, highly skilled physicians, surgeons and specialists. Appreciation banners were hung throughout Day Kimball Hospital during the week.

"Healthcare roles are very demanding, and we often neglect doing basic things for ourselves, like taking a break to enjoy a meal with our colleagues," said DKH President and CEO Anne Diamond. "We are grateful to all of the dedicated individuals – our doctors, nurses, therapists, engineers, food service workers, volunteers, administrators, and so many more – and for their contributions to DKH throughout the years. This employee appreciation barbecue was one small token of appreciation that only touches the surface of the type of recognition our employees deserve."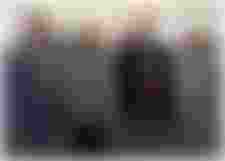 At an outdoor picnic area set up for the cookout, DKH employees enjoyed games, music, giveaways, a delicious barbecue menu catered by Sodexo USA Inc., Suzy Q's ice cream truck, and a prize wheel provided by Foxwoods Resort Casino. DKH offsite locations received a special offering provided by Renee's Working Girl Catering.

"We're delighted to have established a new relationship with Foxwoods Resort Casino and the Mashantucket Pequot Tribal Nation, and most appreciative that they came out today in support of our 125th anniversary and staff appreciation day," said DKH Director of Development Kristen Willis. "Foxwoods is generously sponsoring DKH's Employee of the Month Program and they felt this was another way in which they could show their appreciation for the people that serve within the Northeast Connecticut community."

DKH also hosted the NECT Chamber Business After Hours event on Tuesday, May 21 at the Hospital. More than 140 Chamber members shared in the health system's milestone celebration. Guests included local dignitaries, business leaders, and Day Kimball Healthcare leadership and supporters.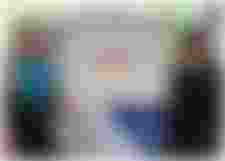 At the reception, an original oil painting, commissioned for the anniversary was unveiled. The painting, a depiction of the original Day Kimball Hospital Pomfret Street building, commemorates the Hospital's history, culture, and growth. It was created and donated by local artist Lisa Andrews. "I was touched and honored to be asked to create a painting to commemorate the 125th anniversary of Day Kimball Healthcare," said Andrews. The donated painting will be displayed in the Visitor's Entrance of Day Kimball Hospital for generations to come.

About the Artist
Lisa Andrews, the creator of DKH's commemorative oil painting, is an experienced and creative visual artist and enjoys continued personal growth as an artist in her spare time. She is a graduate of The Art Institute of Boston and also attended Eastern Connecticut State University's education department.

Lisa has a history of teaching art classes locally at Silver Circle Gallery, Westview Healthcare Center, The Complex Performing Arts Center, and she also created a successful art studio, Artique. For 8 years, through Artique, she worked with and supported many local organizations, such as The ARC, TEEG, Northeast Opportunities for Wellness and more.

She has been involved and awarded through many Northeast Connecticut organizations including, NECASA, Pomfret Community PTO, Pomfret Cub Scouts, and Connecticut Association of Schools, and she created and won a national contest in which her and her students created a storybook project using assistive technologies. Lisa has also been involved with the Rotary Club of Putnam, Putnam Arts Council, Putnam Business Association, and the Day Kimball Hospital Women's Board.

Learn more about Day Kimball Healthcare's milestone of 125 years of service at daykimball.org/125. For career opportunities with Day Kimball Healthcare visit daykimball.org/careers.
PHOTO CAPTIONS: (l to r)
2019-06_DKH-Staff-BBQ: Day Kimball Healthcare staff members enjoy tables set up outdoors for the employee appreciation barbecue held on Wednesday, May 22 at Day Kimball Hospital. Staff members pictured (l to r) are DKH Vice President of Human Resources Jeffrey Corrigan, DKH Chief Nursing Officer and Vice President of Patient Services John O'Keefe, DKH Chaplain Reverend Jonathan Scott, and DKH Director Emergency Services and Med/Surg Richard Linnell.

2019-06_DKH-Foxwoods-Celebrate: Day Kimball Healthcare staff members and Foxwoods representatives celebrate DKH's 125th anniversary at the staff appreciation barbecue.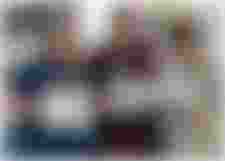 2019-06_DKH-125-Means: Day Kimball Healthcare staff members (l to r) DKH staff members Chelsey Kopplin, Nicole Richardson and Medoree Ingves share what 125 years of service means to them at the employee appreciation barbecue – "Feels like family" "Close to home" "Accomplishment."

2019-06_DKH-Anniversary-Painting: Local artist, Lisa Andrews and DKH President and CEO Anne Diamond stand beside the donated oil painting of the original Day Kimball Hospital Pomfret Street building at a special unveiling held during the NECT Chamber Business After Hours event held on Tuesday, May 21 at Day Kimball Hospital.