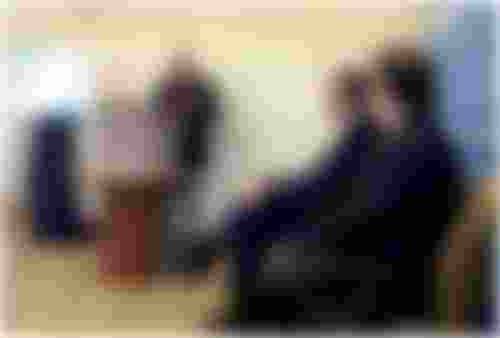 Day Kimball Healthcare Chairman of the Board Jack Burke addresses the audience as Yale New Haven Health Chief Operating Officer Chris O'Connor (left) and DKH President and CEO Joseph Adiletta look on, at the announcement of DKH's new Community Partnership with YNHHS on Friday, May 12, 2017 at the Day Kimball Healthcare Center in Plainfield.
Day Kimball Healthcare (DKH) and Yale New Haven Health (YNHHS) today announced a new "Community Partner" relationship that will serve to enhance clinical care at Day Kimball Hospital and expand access to care providers in Northeast Connecticut.
The announcement was made at the Day Kimball Healthcare Center in Plainfield, where the first evidence of this new partnership – the recent addition of a Yale New Haven Health affiliated Yale Medicine cardiologist's office to the healthcare center – is already in place.
DKH President and CEO Joseph Adiletta was careful to point out that this new relationship is not a merger but a clinical partnership. Adiletta said becoming a YNHHS Community Partner is a very positive and progressive step in Day Kimball's strategy to grow access to high quality health care in the communities it serves while it remains one of the few independent hospitals and healthcare systems in the state.
"For more than 122 years Day Kimball's mission has been to serve the health needs of our community through our core values of clinical quality, customer service, fiscal responsibility and local control. Though recent pressures on healthcare in our state and nation have made continuing that mission as an independent community hospital and healthcare system more difficult, we at Day Kimball have remained committed to finding innovative and progressive solutions to overcome those challenges," Adiletta said.
"Becoming a community partner of Yale New Haven Health will allow us to preserve and expand access to first class care close to home in Northeast Connecticut. We are proud to join with such a recognized and esteemed partner in this effort, particularly a partner that so closely shares our vision and values of what health care should be and how it should be delivered," Adiletta continued.
Yale New Haven Health Chief Operating Officer Chris O'Connor said, "We are proud to partner with Day Kimball Healthcare to enhance access to high quality clinical care in Northeast Connecticut in a cost effective manner. DKH has an outstanding history of providing exceptional care and we believe this partnership will bring mutual benefit to both organizations and to the people in this region."
Officials said that the partnership already includes Day Kimball's participation in Yale New Haven Health's purchasing network, an arrangement that has been in place for about a year and has allowed DKH to save more than $300,000 through economy of scale in the purchase of materials.
Now that Day Kimball Healthcare has become an official community partner of Yale New Haven Health, the two systems will work together to identify additional opportunities for collaboration.
In the near term, officials said this is likely to include expanding access to specialty care and other medical providers in Northeast Connecticut by leveraging the services of providers who are part of YNHHS's Northeast Medical Group (NEMG) as well as YNHHS's association with Yale Medicine, the clinical practice of the Yale School of Medicine.
YNHHS and DKH are also working to incorporate an eICU clinical service at Day Kimball Hospital. This would allow specially trained eICU critical care nurses and physicians at Yale to provide patient monitoring and consulting support to the critical care nurses and physicians at Day Kimball Hospital's Intensive Care Unit through the use of advanced telemedicine technology.
Ultimately, the integration of this service would mean that patients who are more seriously ill can continue receiving the highest quality care close to home at Day Kimball Hospital instead of having to be transferred to a larger and more distant tertiary care center.
"These are just a few of the services we're already working to bring to our patients through this new partnership with Yale New Haven. We're excited about the expansion in access to care this will provide to our region and we're looking forward to building upon those successes in the future," Adiletta said.
Day Kimball Healthcare is the second organization to become a community partner of Yale New Haven Health; Bristol Hospital became a community partner in 2013.
Q & A: DKH's Community Partnership with Yale New Haven Health >