Day Kimball Healthcare's Celebrity Scoops Night Raises $1,060
08/19/2019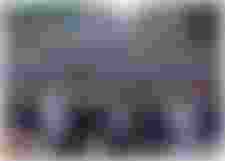 Day Kimball Healthcare (DKH) hosted its annual Celebrity Scoops Night on Thursday, August 1 at Deary Brothers Mike's Stand in Putnam. Families and friends enjoyed an evening filled with simple pleasures and family fun activities while raising $1,060 to benefit the Northeast Connecticut Cancer Fund of DKH.
The event was orchestrated by a committee of volunteers led by Eileen Piotroski, Assistant Branch Manager of Putnam Bank. Mike Deary, owner of Deary Brothers Mike's Stand, generously donated the venue and raffle prizes and the restaurant's staff assisted the lineup of Celebrity Scoopers by helping to scoop ice cream.

D.J. Sergio of Surround Sound Entertainment donated his time for the event and kept the crowd engaged throughout the evening, entertaining guests and getting the kids involved karaoke.

Veterans and local heroes of the Mayotte Viens American Legion Post #13 competed to earn the most tips and the title of "Super Celebrity Scoopers!" All tips to the celebrity scoopers were donated to the Northeast Connecticut Cancer Fund of DKH.

The Northeast Connecticut Cancer Fund of DKH provides financial assistance for cancer-related screening and treatment services to individuals living in Northeast Connecticut who otherwise may not have the financial resources to obtain needed medical attention.

To learn more about the NECT Cancer Fund of DKH visit daykimball.org/nectcancerfund.