Day Kimball Hospital Implements New, State-of-the-Art Patient Monitoring System
09/08/2016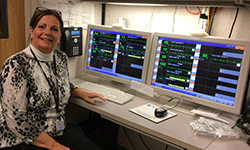 A new, state of the art patient monitoring system has been installed in the Intensive Care and Medical/Surgical departments at Day Kimball Hospital.
The new system, installed in July, is the same monitoring system first installed in the hospital's new Townsend Emergency Medical Center in late 2015. It now provides medical staff with all-inclusive patient monitoring not just at the central nursing stations but also right at the bedside, through the use of two display screens.
Comprehensive bedside monitoring now enables care providers to more quickly assess a patient's condition, allowing for more efficient provision of care. Another benefit of the new system is the high level of monitoring it offers to patients when in-transit throughout the hospital.
"This new system is much more user friendly. Our staff loves it because it makes it easier and faster for us to provide high quality care," said Susan Rosa, Director of the Med/Surg Department at Day Kimball Hospital.
PHOTO CAPTION:
Day Kimball Hospital Director of Critical Care, EEG/EMG Elizabeth Favreau observes patients' conditions on two new patient monitoring display screens.
Related Resources
Intensive Care Unit (ICU)
Medical/Surgical Department
Townsend Emergency Medical Center