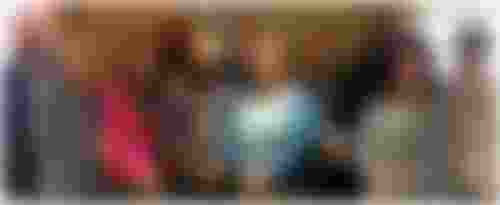 DKH Dr. Peter Neal, CCAR Recovery Coach Mary Gotlibowski, CCAR Recovery Coach Program Manager Jennifer Chadukiewicz, CCAR Emergency Department Recovery Coach Manager Jay Osborne, CCAR Recovery Coach Michael Serrano, CCAR Recovery Coach TJ Aitken, CCAR Recovery Coach Wende Cooper, CCAR Recovery Coach David Santiago, CCAR Recovery Coach Michael Heaven, DKH Director of Behavioral Health Kate Mackenzie, and CCAR Recovery Coach Katie Siekiera at the Townsend Emergency Medical Center on January 23 at Day Kimball Hospital.
Day Kimball Hospital has partnered with Connecticut Community for Addiction Recovery (CCAR) in a program that sends trained recovery coaches to Emergency Departments to serve individuals being treated for overdoses and who are ready for recovery. The recovery coaches will be on-call and available to assist patients who are admitted in the Day Kimball Hospital Emergency Department with opioid overdose and other alcohol- or drug-related medical emergencies by connecting them to substance use disorder treatment and other recovery services and providing transportation if necessary, all at no cost to patients.
"There's no doubt that opioid addiction is a major epidemic. I've witnessed, firsthand, the sharp rise in drug addiction and opiate related overdoses and deaths," said Dr. Steven Wexler, medical director of the Emergency Department at Day Kimball Hospital and national medical director for NES Health. "The causes of this epidemic are complex and combatting it isn't going to happen overnight. Day Kimball's participation in this program is an important step in the fight against the opioid crisis and other substance use disorders in Northeast Connecticut. The program is already exceeding my expectations in the short time we have implemented it."
Recovery coaches are trained, skilled professionals who support patients, family members and hospital personnel, providing assistance to help people begin recovery or to stabilize recovery. The coaches have also recovered from addiction themselves, allowing them to serve as proof that recovery is possible and to better relate to and connect with those struggling with addiction. The initiative is funded in part through federal funds from the federal Substance Abuse and Mental Health Services Administration (SAMHSA) as part of a $5.5 million grant awarded to Connecticut through the 21st Century Cures Act to combat the opioid crisis.
Day Kimball is now one of eight hospitals in Connecticut who offer this program, including Danbury Hospital in Danbury, Manchester Memorial Hospital in Manchester, Lawrence Memorial Hospital in New London, Midstate Medical Center in Meriden, St. Francis Hospital and Medical Center in Hartford, William W. Backus Hospital in Norwich, and Windham Hospital in Windham.
Christine Collins, director of Day Kimball Healthcare's Family Advocacy Center and implementation coordinator for the CCAR program at Day Kimball Hospital, says the program provides an important bridge to services and a beacon of hope for those it serves.
"In our community, when someone is ready to access recovery they may find so many barriers that it feels overwhelming and may decide not to continue on that path. With this new program, an individual is connected with a recovery coach who can immediately assist in overcoming many of those barriers. A recovery coach will be able to locate appropriate programs, provide transportation and become a strong peer support. We are so grateful to be able to offer this to our patients as we believe they deserve the best opportunities to a better future." Collins said.