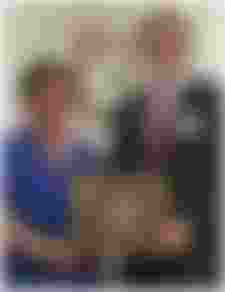 Deborah Seney, housekeeper for Day Kimball Healthcare, has been named Employee of the Month for March by Day Kimball Healthcare (DKH).
Seney, who has been working at DKH since 2003 in her role as a housekeeper, cleans and maintains sanitary, orderly and attractive conditions on the medical/surgical floor in spaces occupied by patients, staff, and visitors. Her primary responsibilities include total patient room cleaning, waste management and operating sanitation equipment.
At a celebration on March 28, in honor of her Employee of the Month Award, Joseph Adiletta, DKH President and CEO said, "Deb has an infectious attitude that permeates joy, enthusiasm and fun, and that comes across to people here at the hospital in all that she does. It goes a long way in helping people enjoy their days here, and has had a tremendous benefit on our patients, coworkers and the community. People truly enjoy being around Deb and it shows."
According to Greg Harubin, director of facilities management, "Deborah commits herself to doing the very best she can do every day and she loves greeting the patients with her famous 'good morning', which is always delivered with a smile. Her co-workers enjoy working with her, stating that she is a real team player who is always ready to pitch in, with a smile."
When asked about what she likes most about her job she said, "There are many facets to my job that I enjoy thoroughly. But the most important ones include the people I work with on a daily basis. They are all great hardworking people. The other one is being able to put a smile on the patients' faces, when they are having a bad day. I feel it's important to maintain a positive attitude for the betterment of the patients and the Hospital community.
In response to being named Employee of the Month Deborah stated, "Knowing that there are so many hard working employees in the company, I feel honored and proud to receive this recognition by my administration and peers."
Seney was born in Putnam, Connecticut and has resided in North Grosvenor Dale, Connecticut with her husband for the past 45 years. She has two children and seven grandchildren.
PHOTO CAPTION: (l to r) March Employee of the Month Deborah Seney, and Day Kimball Healthcare President and CEO Joseph Adiletta, at Seney's Employee of the Month celebration on March 28.