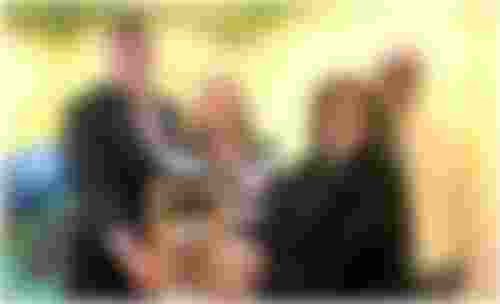 (l. to r.): DKH Chairman of the Board Joseph Adiletta, DKH Employee of the Month Christine Peer, DKH President and CEO Anne Diamond and DKH Director of Physical Medicine Jerome St. Sauveur at Peer's Employee of the Month celebration, held September 27 at the Day Kimball Healthcare Physical Medicine office in Plainfield.
Christine Peer, pre-certification/registration clerk has been named employee of the month for September at Day Kimball Healthcare (DKH).
Peer, who has some 20 years' experience in the medical field, began her career with DKH in 2013 as a pre-certification/registration clerk in the physical medicine outpatient facility on South Main Street in Putnam. She relocated to the Plainfield office in 2015 and currently assists at both locations. In her role, Peer is responsible for greeting and registering patients, scheduling appointments, maintaining and updating patient information, as well as performing various administrative duties such as obtaining insurance authorizations, daily billing and answering phones.
At an award ceremony recently held at DKH, Peer's supervisor, Jerome St. Sauveur, director of physical medicine stated, "All of our pre-registration staff need to multi-task, and Chris does a great job of this. Whether greeting patients, scheduling appointments, or working with insurance companies, she handles her responsibilities in a very organized and professional manner. Chris is an excellent mentor to other front office staff and she's also flexible with coverage. As a first line of contact to the patient, Chris impresses her co-workers with her ability to do it all effectively and calmly, while fielding their questions, as well."
When asked how she feels about being named Employee of the Month, Peer said, "I feel so appreciated and honored to have been chosen." Peer added, "I love being the first and last person the patient interacts with when they come into our therapy facilities. Many of our physical therapy patients come into our facility and you can see pain or frustration on their faces. Each patient I interact with often leaves with a smile and returns at their next visit with a big smile for me when I check them in again."
Peer was born at Day Kimball Hospital and resides in Moosup, CT with her husband and three children. She attended Quinnebaug Valley Community College in Danielson, CT, where she earned her nurse's aide certification in 2013 and Phlebotomy certification in 2004. Over the years, Peer has volunteered for various local ambulance companies and for the past several years, she has served as a Medical Reserve Corp. member and volunteer for the Northeast District Department of Health where she assists with mass flu clinics and community disaster training within several area communities.