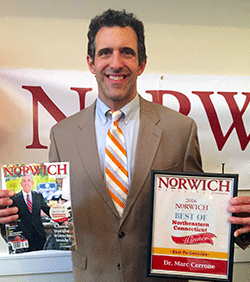 Dr. Marc Cerrone, Director of Pediatrics for Day Kimball Medical Group's Pediatric Centers and Medical Director of Day Kimball Hospital's Neonatal Nurse Practitioner Program, has been voted Best Pediatrician in Norwich Magazine's Best of Northeastern Connecticut contest for 2016. Thousands of votes were cast in numerous categories in the magazine's reader's choice poll. Winners, including Dr. Cerrone were honored by the magazine at an awards dinner on Wednesday, August 31 at Grill 37 in Pomfret Center.
Dr. Cerrone has cared for children across Northeast Connecticut for 17 years, having joined the staff of Day Kimball in 1999 after completing his residency at Albert Einstein College of Medicine in New York. Dr. Cerrone is Board Certified by the American Board of Pediatrics, is a Fellow of the American Academy of Pediatrics, and is an Assistant Professor of Pediatrics at UMASS School of Medicine.
"This award truly means a great deal to me. I am honored that the parents in Northeastern CT have developed such trust in me to care for their children. I have loved watching families grow through the years, and this year I am seeing the babies I first cared for when I started here become seniors in high school! This type of recognition fuels my work and further strengthens my commitment to this community," said Dr. Cerrone.
Dr. John Graham, Chief Medical Officer and VP, Medical Affairs and Quality, also praised Dr. Cerrone's contributions to Day Kimball and the community.
"I take great pleasure in congratulating Dr. Cerrone on his recent selection as "Best Pediatrician". Dr. Cerrone has been with Day Kimball Hospital for 17 years and is always a pleasure to work with. He is congenial, collegial and is always willing to go the extra mile to improve patient care and assist his coworkers. Day Kimball Hospital and the community are both extremely fortunate to have this talented and caring physician taking care of our pediatric population," Graham said.
In addition to his roles at Day Kimball, Dr. Cerrone is also a co-host of The NEW DAY Show on WINY 1350 AM radio alongside Dr. Erica Kesselman. The Show serves to build awareness about health care topics that are important and relevant to the local community. Both physicians are also child abuse examiners for the Windham County Multidisciplinary Team.
An avid runner and triathlete, he is a supporter of Day Kimball's Give it a TRI Triathlon, both behind the scenes as race organizer this year and on race day as a participant. Having just completed its 6th annual event on August 20, the race encourages local athletes of all skill levels to participate and be an example of health and fitness in the community. Dr. Cerrone was chosen last year by the Hartford Marathon Foundation to be a fitness ambassador as a member of Team HMF, and continues on the team this year as he prepares for his fourth marathon this fall in New York City.
His interest in promoting fitness in the community led to his involvement with the Hale Family YMCA, first as co-chairman of the Community Fund Raising Division with his wife Kate, and currently as a Board of Advisors Member. Dr. Cerrone is a founding member of HealthQuest, a community organization designed to promote health and wellness in Northeastern CT.
Previously Dr. Cerrone was awarded Humanitarian of the Year in 2009 by the Putnam Lions Club following two medical mission trips that he led to Mongolia and Haiti. Since then he has volunteered his services on two other mission trips sponsored by High Pointe Church to Venezuela and Tanzania. Dr. Cerrone can be seen frequently in the community volunteering at fundraising events for local organizations like TEEG, QVCC, Komen's Ride for the Cure and the Interfaith Services Food Bank as well as on stage at the Bradley Playhouse and Complex Performing Arts Center.
Dr. Cerrone is known by his patients and colleagues to bring fun to the workplace by dressing up in costume every Halloween at the Pediatric Center in Putnam, and stays up-to-date with what his young patients are interested in by staying tuned in to pop culture. Dr. Cerrone says he hopes his positive energy helps sick patients leave the office with a smile.
Related Resources
Primary Care: Pediatrics
Women's Health: Maternal Child Health