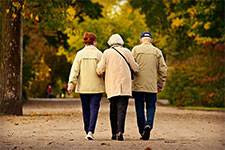 Walk, Talk and Social Support
Monthly, 2nd & 4th Wednesday (weather permitting)
Roseland Park | Woodstock, CT
Meet at the Picnic Tables
We are all touched by grief at some point in our lives. Please join our adult grief walking group at Roseland Park. We walk along the water and paved walking paths. Bereavement walks provide an opportunity to gather with others who have lost a loved one and are experiencing grief.
This group offers a supportive space to walk, talk, and share while receiving fresh air and gentle exercise. There is no charge to participate, and walkers may join at any time - attendance at all walks is not required.
" Grief does not change you. It reveals you" ~John Green, The Fault in our Stars.
You are not alone, we understand & we support you.
Registration required. For more the most up-to-date information on the group and to register, contact the hospice office at (860) 928-0422.