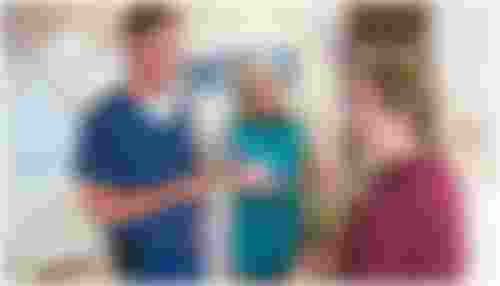 Patients covered by Anthem Blue Cross and Blue Shield insurance can pay lower in-network copayments when they receive care at Day Kimball Hospital or from a Day Kimball Medical Group primary care provider. The savings come as a result of the hospital being designated a Value Tier 1 Hospital by Anthem and the medical group being designated a part of Anthem's Enhanced Personal Health Care (EPHC) Program. DKH was notified by Anthem in September that it had achieved a 100% score on all components of Anthem's Quality-In-Sights® program, a determinant of the EPHC program that measures efforts toward continuous improvement and error prevention, in addition to implementation of processes that achieve high quality, safe, and effective patient care.
Day Kimball Hospital and Day Kimball Medical Group have held the Value Tier 1 Hospital and EPHC designations since Anthem instituted them in July, 2016. The designations are given by Anthem to hospitals and medical providers that meet the company's requirements for high quality of care and efficiency, which translates to lower healthcare costs. The program passes these savings on to patients in the form of lower copayments.
"We're extremely proud to hold these quality distinctions for Day Kimball Hospital and Day Kimball Medical Group, and we're very pleased that this program allows our patients covered by Anthem to benefit from increased savings because of it," DKH President and CEO Anne Diamond said.
"We also want anyone who may be in need of a new provider to know that we're here for them, and if they're covered by Anthem, to know about those additional savings. All of our Day Kimball Medical Group practices are accepting new patients, and Day Kimball Hospital provides top-notch care for everything from emergency care to surgery, cancer care, labor and delivery, outpatient services and much more," Diamond said.
Those looking for a new provider can find out more about all of DKH's services at www.daykimball.org. Those searching for a new primary care provider can call 1 (844) DKMG DOC (1-844-356-4362) or visit daykimball.org/acceptingpatients. Diamond also noted that DKH expects to make online booking for Day Kimball Medical Group primary care providers available on its website sometime in late October.
In addition to the Value Tier 1 Hospital and EPHC designations, DKH also holds several other distinctions through Anthem and Blue Cross Blue Shield. These include designations as a Blue Distinction Center for Hip and Knee Replacement and a Blue Distinction Center+ for Specialty Care – Maternity.