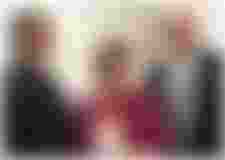 Karen Lamontagne, LPN, charge nurse at Day Kimball Medical Group's Pediatric Center in Putnam, has been named employee of the month for October by Day Kimball Healthcare (DKH).
Lamontagne began working for DKH in 2004. In her role as charge nurse, Lamontagne is responsible for the care of pediatric patients, assisting physicians with pediatric procedures, scheduling nurses and maintaining the work flow in the Pediatric Center. She is also responsible for the "Reach Out and Read" program, which enables the Pediatric Center to give new books to children ages 6 months through five years at their well visits.
According to Sarah Niemiec, RN, practice coordinator for DKMG Pediatric Center, "The Pediatric Center is very proud to have Karen Lamontagne be the recipient of the October Employee of the Month Award. She is a vital part of our team and is a strong leader. Karen's years of experience and time she has spent working in pediatrics for Day Kimball are evident in the way she carries out her job. She has recently stepped up to being the charge nurse in our department and is taking on her new role with confidence and enthusiasm."
At a celebration to honor Lamontagne on October 26, DKH President and CEO Robert Smanik spoke to how Lamontagne is an example of the qualities valued most among staff at the organization.
"Day Kimball's Pediatric Center provides high quality care to the families of Northeastern Connecticut, and Karen plays an integral part in that every day. The fact that she is affectionately known as "Nurse Karen" to her patients and their families is something Day Kimball is very proud of. It is a real privilege to have Karen in her role, and it is clear that her peers see her as a positive influence in this organization and in the community," Smanik said.
When asked how she feels about this award, Lamontagne was visibly emotional and appreciative of the recognition. She said, "I didn't know I wanted to be a nurse until my husband suggested that I go to nursing school. I have been an LPN for 18 years now and I am both honored and humbled by this award. I work with a great group of people both in my department and throughout the organization. I have spent the last twelve years with the Day Kimball Pediatric Center, and this is where I am meant to be. I love my job and love what I do."
Lamontagne was born in Worcester, MA and moved to Thompson, CT with her parents when she was 16 years old. She currently resides in Thompson with her husband of 21 years and two daughters. Lamontagne earned her nursing license from Windham Technical School in Willimantic, CT.
PHOTO CAPTION: Karen Lamontagne (center) with President and CEO Robert Smanik (right) and DKH Chairman of the Board Joseph Adiletta (left) at Lamontagne's Employee of the Month celebration at Day Kimball Hospital, Wednesday, October 26, 2016.