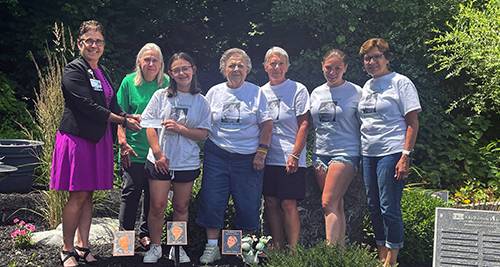 Local Family Makes Donation to Benefit the Northeast Connecticut Cancer Fund of Day Kimball Healthcare
08/17/2022
The Northeast Connecticut Cancer Fund of Day Kimball Healthcare was the recent recipient of a generous donation of $2,000 by the Solomon family in memory of their family member and 2018 NECT Cancer Fund Angel Ambassador, Shannon Labonte who passed away from a rare form of cancer on April 27, 2018.
Since that time, the Solomon family and friends have organized numerous fundraisers to provide annual donations in support of the NECT Cancer Fund of DKH, the Shannon Lee Labonte Scholarship Fund at Putnam High School, and other causes that she held close at heart. The NECT Cancer Fund provides financial assistance to residents of Northeast Connecticut who otherwise may not have the financial resources to access needed medical care.
PHOTO CAPTION: (left to right): Kristen Willis, director of development, Day Kimball Healthcare; JoAnn Labonte, Shannon's mother-in-law; Zoe Labonte, Shannon's daughter; Ann Russo, Shannon's aunt; Roberta Solomon, Shannon's mother; Chloe Magao, Shannon's Cousin; and Linda Pacheco, Shannon's aunt at the Deary Memorial Recognition Garden, located on the grounds of DKH's Schneider Center at 309 Pomfret Street across from the Day Kimball Hospital campus. The garden was created by members of the Deary family in 2007 to memorialize, honor, and recognize cancer survivors and loved ones lost to cancer.