Paddle for a Cure Raises $9,962 for Day Kimball Hospital Cancer Center
06/16/2017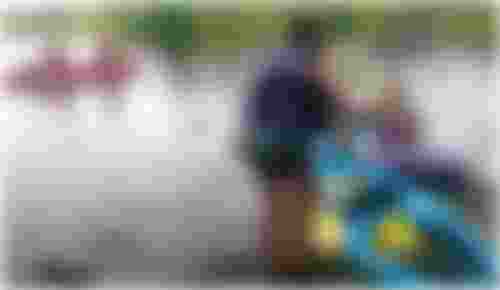 The seventh annual Paddle for a Cure, held Sunday, June 11 at Riverside Park in Brooklyn, CT, has raised $9,962 for the Rose Bove LaRose Cancer Center at Day Kimball Hospital. The funds will support the Cancer Center's efforts to continually provide the most up to date facilities and technologies for the patients who receive care at the nationally accredited cancer center each year. Last year more than 7,000 treatments were provided in their infusion clinic.

Paddle for a Cure is a kayaking event founded and organized by Northeast Connecticut native Lance Collins, an avid kayaker who has lost five family members to cancer, most recently his uncle in 2010. His uncle's passing prompted Collins to organize the first Paddle for a Cure in 2011. The annual event has now raised more than $64,000 in total for the cancer center at Day Kimball Hospital.
Paddle for a Cure works much the same way as a walk-a-thon such as Relay for Life, but participants paddle instead of walk. Participants collect pledges in recognition of their participation, and all the proceeds are donated to the oncology unit at Day Kimball Hospital.
"We couldn't do what we do without the generosity of individuals such as Lance Collins and his amazing family," said DKH Director of Oncology Carolina Starr-Manning. "The money raised at this year's event will truly bolster the delivery of the care we provide in the clinic. It will enable us to brighten the space with new colors and updated amenities and furniture for family and friends who accompany their loved ones receiving treatment. Many studies show that colors can promote calmness, comfort and even reduce pain and stress. We want only the best for our patients and so do the gracious members of the Collins family and team."
Related Resources
Cancer Care Services
Day Kimball Hospital: Rose Bove LaRose Cancer Center
Northeast Connecticut Cancer Fund of DKH
Giving to DKH