Day Kimball HomeMakers: So much more than homemaking.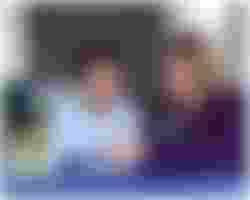 Day Kimball HomeMakers, a division of Day Kimball Healthcare at Home, offers a variety of professional, flexible, non-medical in-home services to meet your needs or the needs of a loved one. Our team of caregivers, led by a Registered Nurse, delivers compassionate and personalized care, right in the comfort of home. We offer homemaking and personal care services ranging from 2 to 24 hours per day, including live-in care. This is the next generation of in-home care.

A trusted and respected community organization since 1985, we've helped hundreds of clients continue to lead active, meaningful lives — while remaining in their own homes. We are registered with the Connecticut Department of Consumer Protection (HCA #0000174), and we receive grants through Senior Resources Agency on Aging. We encourage you to inquire about our services before a crisis occurs so that if help is suddenly needed in the home, there will be comfort in knowing that your homemaking agency has already been selected.
We are Alzheimer's and Dementia Specialists
We take great pride in our expertise in assisting individuals who are living with Alzheimer's and other dementias. We continuously learn more about the disease and how to provide the best and most helpful services for both patient and caregiver with specialized, consistent training from the Connecticut Chapter of the Alzheimer's Association. If you're a caregiver for someone with Alzheimer's or dementia, we provide you time for yourself, an opportunity to get a good night's sleep, and a compassionate and experienced support network.

In-Home Personal Care and Homemaking Services
Our staff are extensively trained, thoroughly screened (including pre-employment physicals and drug testing), insured and bonded. They are considered part of a client's health care team, and they communicate with the client's physicians, nurses, therapists, and more — helping us deliver the utmost in fully integrated care.
Day Kimball HomeMakers services are available in Ashford, Brooklyn, Canterbury, Eastford, Hampton, Killingly, Plainfield, Pomfret, Putnam, Sterling, Thompson and Woodstock; ask us about availability in other Northeast Connecticut towns.
Our care is provided 24/7, weekly or daily for
• long or short term
• large blocks of time, from 2 to 24 hours (day or night)
• overnight or live in
• companion and caregiver relief as needed, including respite or vacations
We offer homemaking services including
• general housecleaning
• laundry
• meal planning, preparation and cleanup
• medication reminder
• socialization
Personal care assistance helps with
• bathing
• shampooing and drying hair
• dressing
• dental hygiene assistance
• toileting
• safeguarding
• medication reminder
We even offer transportation and travel companion services for
• medical appointments
• shopping and errands
• recreational outings

Payment and Billing Information
Our services are most often paid for privately by the client or caregiver but may be covered by some long term care insurance plans. Financial assistance is also available for those who qualify and is provided through a grant from the Senior Resources Agency on Aging. If you have any questions regarding our services and payment options, our team of trained office professionals will be happy to assist.
Locations, Hours and Contact Information
Day Kimball HomeMakers
32 South Main Street
Putnam, CT 06260
Get directions >
(860) 928-5441
Hours: Monday - Friday, 8:00 a.m. - 4:30 p.m.