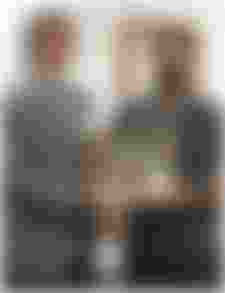 Registered Nurse Phillip Axtell of Thompson, CT has been named employee of the month for May by Day Kimball Healthcare (DKH).
Axtell has been working at DKH for some six years and began as a mental health worker (MHW) in the behavioral health inpatient services department where he was nominated for the employee of the month award. Since the start of his career as a MHW, Axtell has cross-trained in the Emergency Department (ED), earned his nursing degree, and has recently been welcomed as a new addition to the ED's staff as an RN. During his time as a MHW, Axtell was responsible for assisting registered nurses in providing direct patient care activities and a safe therapeutic environment. As an RN, his duties now include providing patient care, monitoring health conditions, and coordinating with other health care professionals.
During a recent employee of the month celebration, Joseph Adiletta, DKH President and CEO said, "It's important to take the time to recognize the dedication and contributions Phillip brings to DKH, and to say thank you. When Phillip was asked what he likes most about his job, he answered, 'The ability to be available to people in their time of need.' That kind of selfless commitment to our patients and the workplace is what makes DKH a special place. It's people like Phillip that make DKH a special place."
According to his previous supervisor, Kate Mackenzie, Director of Behavioral Health, "Phil started out in behavioral health inpatient services as a mental health worker, and realized his talent was aligned with a career in nursing. The character of a nurse is just as important as the knowledge he or she possesses, and in Phil, we recognize his character as sterling in nature. Phil has moved to the Emergency Department to continue to develop his career in the field of emergency nursing, and now is one of two nurses that started in behavioral health and migrated to the Emergency Department, strengthening the bond between the two departments."
His current supervisor, Kelly Marcroft, Director of Emergency Services, said about Phillip, "Phillip recently joined the Emergency Department staff and has been a wonderful addition to the team. In his previous role with behavioral health, Phillip was eager to cross train with the Emergency Department which goes to show his dedication to his profession and to our patients. He always goes above and beyond, and the ED staff loves to work with him. Phillip is mentioned almost daily in our patient satisfaction surveys, always receiving positive remarks. We are really lucky to have him."
Axtell was born and continues to reside in Thompson, CT. He attended Eastern Connecticut State University to obtain his bachelor of science in psychology and then attended Quinsigamond Community College, Worcester MA to obtain his associate nursing degree. He is also an EMT with Community Fire Company of Thompson.
PHOTO CAPTION: (l to r) Day Kimball Healthcare President and CEO Joseph Adiletta, and May Employee of the Month Phillip Axtell at Axtell's Employee of the Month celebration on May 23.