Woman's Board of Day Kimball Hospital Presented $15,000 Check to DKH President and CEO Joseph Adiletta in December 2016
03/08/2017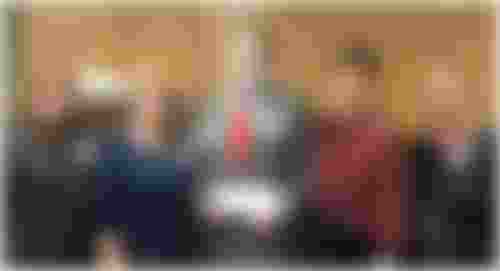 Heidi Hare (far left), Cheryl Bozorgmanesh (left), Denise Archambault (right), and Kim Lecuyer (far right) present DKH President and CEO, Joseph Adiletta (center), with a $15,000 check at Day Kimball Hospital in December 2016.
In December 2016, the Woman's Board of Day Kimball Hospital presented Day Kimball Healthcare President and CEO Joseph Adiletta with a check for $15,000 towards their pledge to raise funds for the procurement of new, state-of-the-art equipment at Day Kimball Hospital for the care of the northeast Connecticut community.
Heidi Hare and her mother Arlene Baril (not pictured) worked on Author Night, and Cheryl Bozorgmanesh hosted Author Night, which was held in October 2016. Denise Archambault hosted and organized the Woman's Board TGIF Fundraiser with 3 generations of family members, and Kim Lecuyer organized the Ladies Golf Tournament. Both events were held in September 2016.
It is through their efforts and those of many other Woman's Board members, along with the community's support of these events that the Woman's Board of DKH were able to present this payment towards their pledge to the hospital. The hospital is very appreciative, as you can tell by Mr. Adiletta's smile!