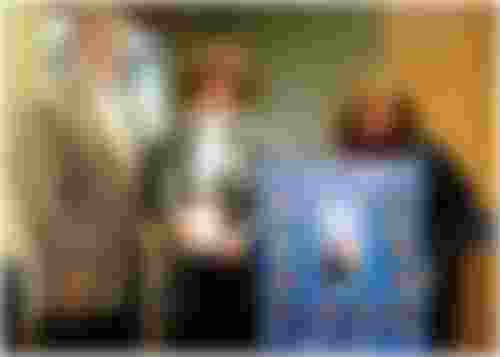 Kim Durand, clinical manager at Day Kimball Healthcare at Home, has been named employee of the year for 2017 at Day Kimball Healthcare (DKH). Durand's selection was announced at a staff event celebrating all of DKH's 2017 Employees of the Month on January 15th, where DKH President and CEO Anne Diamond and DKH Chairman of the Board Joseph Adiletta presented her with the award and a commemorative engraved clock.
"Kim is so deserving of this award. Her long history of providing not only the best clinical care but also such caring and compassion to her Day Kimball HomeCare patients is a shining example of what we strive for each and every day across our organization," said DKH President and CEO Anne Diamond.
Durand, a resident of Thompson who has been working at DKH for almost thirty years, manages the day-to-day coordination and utilization of all patient care resources and services of Day Kimball HomeCare, the medical home health care division of Day Kimball Healthcare at Home. She also provides support, mentorship, and education to the HomeCare nurses in the field.
"As a member of our Day Kimball Homecare team for nearly 27 years, Kim's level of professionalism and her dedication to our patients and staff is second to none," said Day Kimball Healthcare at Home Executive Director Renee Smith.
"In her role as Clinical Manager, Kim consistently exceeds even the highest expectations for being a clinical expert, mentor and educator for nursing staff, advocate for patients and families, and role model for other leaders. Kim's level of dedication also extends to her commitment to professional growth as a nurse and leader. Our entire team at Day Kimball Healthcare at Home couldn't be happier or more proud of Kim for receiving this well-deserved award," Smith said.
About being chosen to receive the honor, Durand said, "I am honored to be chosen for this award from a group of equally deserving colleagues. It is a pleasure working in the community where I grew up and I appreciate the opportunity to give back to that community every day. I thank all who were involved in this decision."
Durand grew up Thompson, CT, where she currently resides with her husband, two of her three daughters and one of her three grandchildren. She attended St. Vincent's Hospital School of Nursing and Assumption College, both in Worcester, MA, to obtain her diploma of Nursing. Durand is currently enrolled in the Masters in Nursing Program Management through Western Governors University, online. She is also certified in Integrated Chronic Care Management through Sutter Center for Integrated Chronic Care.
The other 2017 employees of the month who were honored include: Deb Seney, housekeeper at Day Kimball Hospital; Lilybeth Ly, physical therapist at Day Kimball Healthcare Center in Danielson; Philip Axtel, RN, Emergency Department at Day Kimball Hospital; Laura Kroll, RN, BSN, community liaison nurse for Day Kimball HomeCare; Rebecca Rainville, CNA, medical assistant at Day Kimball Medical Group; Jessica Stailing, CNA, patient service representative at Day Kimball Medical Group; Christine Peer, CNA, pre-certification/registration clerk at DKH's physical medicine office in Plainfield; Judy Favreau, RN, case manager at Day Kimball Hospital; Stephanie Schapp, CMA, medical assistant at Day Kimball Medical Group; and Janet Yannotti, RN, ambulatory care unit at Day Kimball Hospital.
Related Resources
Day Kimball Healthcare at Home
DKH Employees of the Month
DKH Champions of the Human Spirit